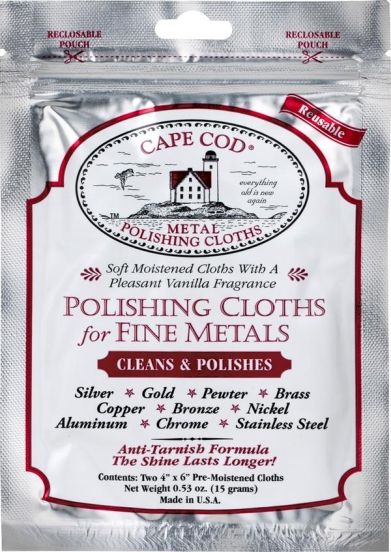 Cape Cod Polishing Cloth + Buffing Cloth
Oszczędź 54%
Special Price
82,66 zł
Regular Price
180,07 zł
Cape Cod
Cape Cod to najbardziej znana marka do polerowania i konserwacji wśród entuzjastów zegarków na świecie. Jest używana do usuwania powierzchniowych zarysowań na metalu oraz do nadawania ładnego połysku bransoletom i kopertom. To opakowanie zawiera 2 ściereczki. Torebkę można zamknąć aby zapobiec wysychaniu ściereczek.

DODATKOWO: Otrzymujesz także jedną ściereczkę po polerowaniu, którą można wyprać i używać wielokrotnie.
Zegarkowygigant.pl jest autoryzowanym sprzedawcą produktów od Cape Cod.
Produkt został dodany do koszyka!
Opis produktu
Polerowanie metalu
Ściereczki Cape Cod mogą wypolerować prawie każdy rodzaj metalu, usunąć powierzchniowe zadrapania i nadać powierzchni świeży wygląd. ALE, używaj ich tylko na gładkich powierzchniach, ponieważ wygładzą one powierzchnie, które nie powinny być gładkie... i nie powinieneś także używać ich na szkle. W opakowaniu znajdują się 2 ściereczki i zawierają substancję polerującą. Wymiary 10x15 cm nie są potrzebne do zegarków, więc możesz przeciąć ściereczki na mniejsze kawałki i używać ich wielokrotnie. Podczas używania ściemnieją... być może nawet stanął się czarne - to oznacza, że działają. Nawet kiedy są czarne nadal możesz ich używać do innych produktów metalowych.
Wielokrotny użytek
Ściereczek można używać wielokrotnie tak długo, jak są przechowywane w zamkniętej torbie - w przeciwnym razie wyschną.
Ściereczka polerująca z mikrofibry
Po nałożeniu na metal lakieru od Cape Cod użyj tej ściereczki do polerowania i czyszczenia. Nadaje piękny połysk, a ściereczkę można wyprać i używać ponownie.
Opis produktu został opracowany specjalnie dla firmy ZegarkowyGigant.pl i nie może być kopiowany ani modyfikowany! Naruszenie tego zakazu będzie skutkować roszczeniami finansowymi.
Dostawa
Dostawa Poczta Polska - 6-12 dni roboczych
Darmowa przy zamówieniach powyżej 1000 zł, poniżej tej kwoty koszt wynosi 35 zł.
Dostawa priorytetowa UPS - 1-5 dni roboczych
29 zł przy zamówieniach powyżej 1000 zł, przy zamówieniach poniżej tej kwoty 49 zł.
Więcej informacji
Więcej informacji

| | |
| --- | --- |
| SKU | 8821-1 |
| EAN | 746969888210 |
| Marki | Cape Cod |
Przewodnik po rozmiarach
Jak mieszymy rozmiar zegarków?
Średnica
Średnica to popularny termin, ale nie wszystkie koperty mają kolisty kształt, więc średnica to tak naprawdę szerokość mierzona od lewej do prawej. Należy pamiętać, że niektórzy producenci do średnicy wliczają także koronę (do ustawiania zegarka) i przyciski. My natomiast staramy się wystandaryzować pomiar poprzez nie wliczanie korony do rozmiaru koperty.

Grubość koperty
Grubość - lub wysokość profilu zegarka - to pomiar koperty od góry do dołu jak na zdjęciu poniżej. Dla porównania, moneta 1 Euro ma grubość 2.33 mm.
Zegarki można podzielić na:
Smukłe: 4-6 mm
Normalne: 6-12 mm
Grube: 12-14 mm
Oversize: 14-18 mm