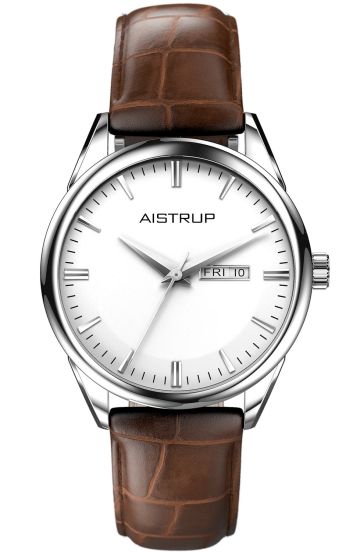 Aistrup Classic 78 Mens Day-Date AIW7801
Oszczędź 56%
Cena promocyjna
270,00 zł
Normalna cena
609,00 zł
Aistrup
W magazynie
Natychmiastowa wysyłka w dni powszednie, jeśli zamówisz przed 15.00
Klasyczny zegarek męski zaprojektowany przez duńską firmę Aistrup należy do kolekcji Aistrup Classic 78. Zegarki z tej kolekcji nadają się do codziennego użytkowania, a także na wyjątkowe okazje. Dodatkowo pasek posiada inteligentny system szybkiej wymiany, z którym każda wymiana paska jest niezwykle prosta i może być wykonana w domu bez żadnych specjalnych narzędzi.
Jesteśmy autoryzowanym dealerem zegarków . Jeśli kupujesz w naszym sklepie internetowym możesz być pewien, że otrzymasz oryginalny zegarek Aistrup o sprawdzonej jakości. Zegarek dostarczany jest w estetycznym pudełku prezentowym.
Szczegóły
Wyświetlanie dnia i daty
Aktualny dzień i data wyświetlane są na tarczy/ekranie.
Szpilka smart-pin
Pasek/bransoleta wyposażona jest w szpilkę smart-pin, dzięki ktorej samodzielna wymiana jest niezwykle prosta. Brak konieczności posiadania jakichkolwiek narzędzi
Oficjalny dystrybutor
Jesteśmy oficjalnym dystrybutorem tej marki. Nasi klienci mogą być pewni, że zakupiony zegarek jest oryginalny i posiada międzynarodową oficjalną gwarancję marki.
Opis produktu został opracowany specjalnie dla firmy ZegarkowyGigant.pl i nie może być kopiowany ani modyfikowany! Naruszenie tego zakazu będzie skutkować roszczeniami finansowymi.
Dostawa
Dostawa Poczta Polska - 6-12 dni roboczych
Darmowa przy zamówieniach powyżej 1000 zł, poniżej tej kwoty koszt wynosi 35 zł.
Dostawa priorytetowa UPS - 1-5 dni roboczych
29 zł przy zamówieniach powyżej 1000 zł, przy zamówieniach poniżej tej kwoty 49 zł.
Więcej informacji
Więcej informacji

| | |
| --- | --- |
| Kolor obudowy | Srebrny |
| Rodzaj paska | Skóra |
| Kolor paska/bransolety | Brązowy |
| Szerokość paska | 20 |
| Długość paska/bransolety | 14-23 |
| Kolor tarczy | Biały |
| Szkiełko | Mineralne |
| Mechanizm | Kwarc |
| Wyświetlanie daty | Tak |
| Odporność na wodę | 5 atm (prysknięcia/deszcz) |
| Grubość koperty | 11 |
| Średnica | 40 |
| Zapięcie | Na sprzączkę |
| Płeć | Zegarki męskie |
Przewodnik po rozmiarach
Jak mieszymy rozmiar zegarków?
Średnica
Średnica to popularny termin, ale nie wszystkie koperty mają kolisty kształt, więc średnica to tak naprawdę szerokość mierzona od lewej do prawej. Należy pamiętać, że niektórzy producenci do średnicy wliczają także koronę (do ustawiania zegarka) i przyciski. My natomiast staramy się wystandaryzować pomiar poprzez nie wliczanie korony do rozmiaru koperty.

Grubość koperty
Grubość - lub wysokość profilu zegarka - to pomiar koperty od góry do dołu jak na zdjęciu poniżej. Dla porównania, moneta 1 Euro ma grubość 2.33 mm.
Zegarki można podzielić na:
Smukłe: 4-6 mm
Normalne: 6-12 mm
Grube: 12-14 mm
Oversize: 14-18 mm