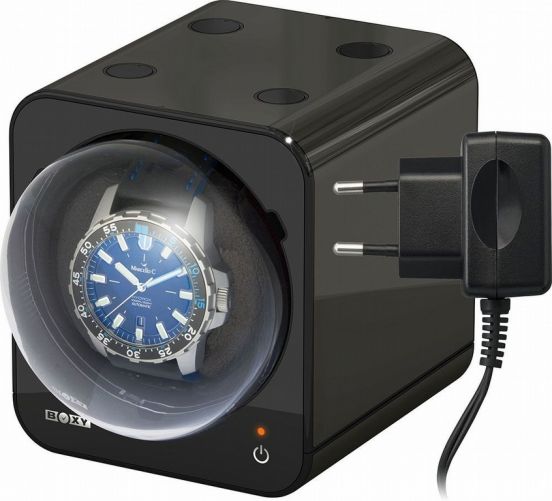 Beco Boxy Fancy Brick Watch Winder Black 309394
Oczekiwana wysyłka od nas: 4-6 dni robocze
Produkt został dodany do koszyka!
Opis produktu
Oficjalny dystrybutor
Jesteśmy oficjalnym dystrybutorem tej marki. Nasi klienci mogą być pewni, że zakupiony zegarek jest oryginalny i posiada międzynarodową oficjalną gwarancję marki.
Rotomat
Okaż swojemu zegarkowi trochę miłości za pomocą tego rotomatu.
Pasuje do systemu Beco BOXY
Ten produkt jest przeznaczony do systemu Beco BOXY, dzięki niemu do kilku rotomatów wystarczy tylko jedno źródło zasilania .
Zdecyduj o kierunku
Możesz zaprogramować jak rotomat powinien się obracać w odstępach czasu (w lewo, w prawo, w przód lub w tył).
Dwa ustawienia
Ten rotomat może wykonywać 650 lub 3600 obrotów dziennie.
Dołączony adapter
Ta nawijarka dostarczana jest wraz z adapterem.
Opis produktu został opracowany specjalnie dla firmy ZegarkowyGigant.pl i nie może być kopiowany ani modyfikowany! Naruszenie tego zakazu będzie skutkować roszczeniami finansowymi.
-
Dostawa
Dostawa Poczta Polska - 6-12 dni roboczych
Darmowa przy zamówieniach powyżej 1000 zł, poniżej tej kwoty koszt wynosi 35 zł.
Dostawa priorytetowa UPS - 1-5 dni roboczych
29 zł przy zamówieniach powyżej 1000 zł, przy zamówieniach poniżej tej kwoty 49 zł.
Więcej informacji
Więcej informacji

| | |
| --- | --- |
| SKU | 309394 |
| EAN | 4022739637476 |
| Marki | Beco |
| Szkiełko | Akrylowe |
Przewodnik po rozmiarach
Jak mieszymy rozmiar zegarków?
Średnica
Średnica to popularny termin, ale nie wszystkie koperty mają kolisty kształt, więc średnica to tak naprawdę szerokość mierzona od lewej do prawej. Należy pamiętać, że niektórzy producenci do średnicy wliczają także koronę (do ustawiania zegarka) i przyciski. My natomiast staramy się wystandaryzować pomiar poprzez nie wliczanie korony do rozmiaru koperty.

Grubość koperty
Grubość - lub wysokość profilu zegarka - to pomiar koperty od góry do dołu jak na zdjęciu poniżej. Dla porównania, moneta 1 Euro ma grubość 2.33 mm.
Zegarki można podzielić na:
Smukłe: 4-6 mm
Normalne: 6-12 mm
Grube: 12-14 mm
Oversize: 14-18 mm