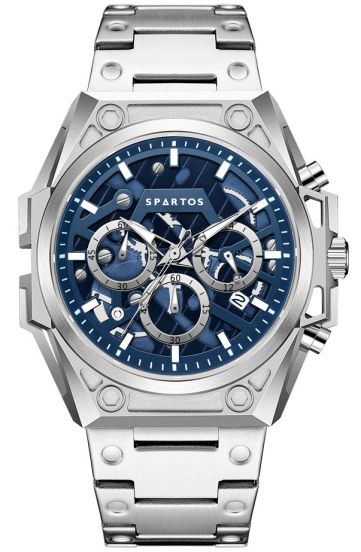 Spartos FX Skeleton Sapphire Chronograph SPW7901
W magazynie
Natychmiastowa wysyłka w dni powszednie, jeśli zamówisz przed 15.00
Jesteśmy autoryzowanym sprzedawcą zegarków
. Dokonując zakupów w naszym sklepie otrzymujesz oryginalny produkt zapakowany w eleganckie pudełko oraz oficjalną gwarancję.
Produkt został dodany do koszyka!
Opis produktu
Wyświetlanie daty
Data wyświetlana jest na wyświetlaczu.
Chronograf
Służy do pomiaru przedziału czasu (stoper). Zwykle, umiejcowiony jest w mniejszej tarczy na środku zegarka.
12 + 24 godziny
Czas wyświetlany jest także w formacie 24 godzinnym.
Powłoka luminescencyjna
Powłoka luminescencyjna zapewnia długotrwały efekt świecenia w ciemności. Wymaga tylko krótkiej ekspozycji na światło. Zazwyczaj wskazówki i czasami wskaźniki godziny są nim pokryte.
Mechanizm bezpieczeństwa
Ten zegarek posiada dodatkowy mechanizm zabezpieczający, który zapobiega przypadkowemu otwarciu zapięcia.
Bransoleta ze stali nierdzewnej
Mocna, trwała i elegancka; bransoleta wykonana ze stali nierdzewnej nadaje zegarkowi klasyczny wygląd.
Szkło szafirowe
Szafir jest 7 razy twardszy od stali. W skali Moha przewyższa go tylko diament. Dzięki temu szkło szafirowe jest świetną ochroną dla Twojego zegarka.
Zegarki kwarcowe
Zegaek kwarcowy zasilany baterią jest kontrolowany przez fluktuacje kryształu kwarcu mineralnego. Oscylacje te prawie nie zmieniają się w czasie, daltego kwarc jest tak często używany - ponieważ zachowuje dokładność.
Ochrona przed wodą: 50 metrów (5 barów)
Zegarek jest odporny na wodę, ale nie należy go nosić podczas pływania. Wartość odnosi się do ciśnienia w wodzie na tej głębokości, podczas bycia nieruchomo i nie powinna być postrzegana jako głębokość do noszenia zegarka.
Kondensacja - ważne!
Szybka zmiana temperatury może spowodować kondensację pary wodnej wewnątrz zegarka. Jeśli pod szklem zauważysz wilgoć, powinieneś natychmiast udać się do zegarmistrza, który może otworzyć i wysuszyć zegarek. Nawet jeśli oznaki wilgoci znikną, to wilgoć wciąż pozostanie - i ostatecznie uszkodzi zegarek - więc odwiedź specjalistę i usuń ją na stałe. Nawet zegarki wodoodporne nie są chronione przed kondensacją. Warto mieć to na uwadze jeśli planujesz przejść z bardzo ciepłych miejsc do bardzo zimnych - na przykład bezpośrednio z gorącej sauny na śnieg. Jeśli nastąpi kondensacja, co zdarza się bardzo rzadko (lub w ogóle) w zależności od produkcji, i zegarek zostanie uszkodzony przez wilgoć, gwarancja prawdopodobnie tego nie pokryje (może to być też spowodowane problemami w produkcji, ale najprawdopodobniej przyczyną będą szybkie zmiany temperatury = przyczyny naturalne)
Rozmiar
Ten zegarek ma 47 mm szerokości (tarcza mierzona od lewej do prawej, bez korony). Nawet jeśli niektóre zegarki nie mają idealnie okrągłego kształtu, nadal używamy terminu: średnica - i mierzymy tylko kopertę, całkowicie ignorując koronę (chociaż niektórzy uwzględniają ją w swoich pomiarach).
Rozmiary
Czy zegarek pasuje do Twojego nadgarstka? Rozmiary zegarków stopniowo zwiększyły się. Typowy zegarek męski ma pomiędzy 40, a 45 mm szerokości. Jeśli masz nadgarstek, który jest wyraźnie większy lub mniejszy zalecamy poszukać zegarków poza typowymi rozmiarami. Zapraszamy do kontaktu z nami, abyśmy mogli podzielić się z Tobą swoimi doświadczeniami.
Opis produktu został opracowany specjalnie dla firmy ZegarkowyGigant.pl i nie może być kopiowany ani modyfikowany! Naruszenie tego zakazu będzie skutkować roszczeniami finansowymi.
Dostawa
Dostawa Poczta Polska - 6-12 dni roboczych
Darmowa przy zamówieniach powyżej 1000 zł, poniżej tej kwoty koszt wynosi 35 zł.
Dostawa priorytetowa UPS - 1-5 dni roboczych
29 zł przy zamówieniach powyżej 1000 zł, przy zamówieniach poniżej tej kwoty 49 zł.
Więcej informacji
Więcej informacji

| | |
| --- | --- |
| Średnica | 47 mm |
| Grubość koperty | 15 mm |
| SKU | SPW7901 |
| EAN | 5714064001624 |
| Marki | Spartos |
| Płeć | Zegarki męskie |
| Rodzaj paska | Łączniki ze stali nierdzewnej |
| Kolor paska/bransolety | Srebrny |
| Szerokość paska | 26 mm |
| Długość paska/bransolety | 14-24 cm |
| Rodzaj ogniwa na pasku | Przypinanie ogniwa |
| Zapięcie | Wdrożenia |
| Kolor obudowy | Srebrny |
| Kolor tarczy | Niebieski |
| Szkiełko | Szafirowe |
| Odporność na wodę | 5 atm (prysknięcia/deszcz) |
| Mechanizm | Kwarc |
Przewodnik po rozmiarach
Jak mieszymy rozmiar zegarków?
Średnica
Średnica to popularny termin, ale nie wszystkie koperty mają kolisty kształt, więc średnica to tak naprawdę szerokość mierzona od lewej do prawej. Należy pamiętać, że niektórzy producenci do średnicy wliczają także koronę (do ustawiania zegarka) i przyciski. My natomiast staramy się wystandaryzować pomiar poprzez nie wliczanie korony do rozmiaru koperty.

Grubość koperty
Grubość - lub wysokość profilu zegarka - to pomiar koperty od góry do dołu jak na zdjęciu poniżej. Dla porównania, moneta 1 Euro ma grubość 2.33 mm.
Zegarki można podzielić na:
Smukłe: 4-6 mm
Normalne: 6-12 mm
Grube: 12-14 mm
Oversize: 14-18 mm