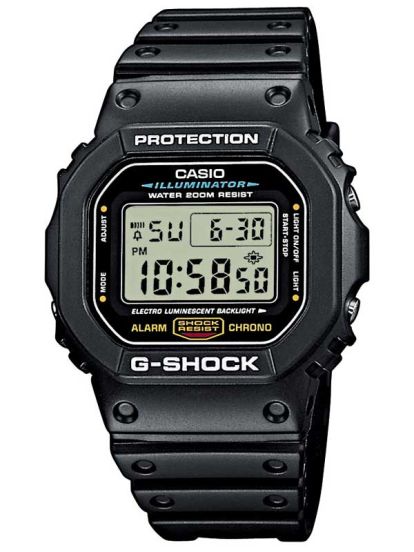 Casio G-Shock Black - DW-5600E-1VER
W magazynie
Wysyłka w 24 godziny w dni powszednie
Zegarek został zaprojektowany i wyprodukowany przez japońską markę Casio i pochodzi z serii niezwykle dobrze wykonanych zegarków sportowych z kolekcji
Casio G-Shock
. Jesteśmy autoryzowanym sprzedawcą
zegarków Casio
. To 100% gwarancja autentyczności produktu oraz zapewnienie oficjalnej gwarancji marki.
Produkt został dodany do koszyka!
Opis produktu
Oficjalny dystrybutor
Jesteśmy oficjalnym dystrybutorem tej marki. Nasi klienci mogą być pewni, że zakupiony zegarek jest oryginalny i posiada międzynarodową oficjalną gwarancję marki.
Iluminator
Panel elektroluminescencyjny podświetli przednią część zegarka, dzięki czemu wyświetlacz będzie bardziej widoczny/czytelny.
Odporność na wstrząsy
Tak zwana konstrukcja odporna na wstrząsy chroni zegarek przed wstrząsami i wibracjami.
Funkcja stopera - 1/100 sek. - 24 godziny.
Czas mierzony jest z dokładnością do 1/100 sekundy, a maksymalna długość pomiaru wynosi 24 godziny.
Multi alarmy
Zegarek przypomini Ci o każdym ważnym wydarzeniu, które ustawisz. Są 4 typy alarmów:
1. Alarm dzienny: aktywowany o tym samym czasie każdego dnia.
2. Alarm daty: aktywowany w konkretnej dacie.
3. Alrm miesięczny: aktywowany tego samego dnia każdego miesiąca.
4. Alarm na każdy dzień jednego miesiąca.
Automatyczny kalendarz
Automatyczna korekta miesięcy/lat o różnych długościach.
Wyświetlanie dnia i daty
Aktualny dzień i data wyświetlane są na tarczy/ekranie.
12/24-godzinny czas
Czas można określić w formacie 12 godzinnym (AM/PM) lub 24 godzinnym.
Kryształ mineralny
Ten bardzo trwały kryształ mineralny ma ulepszoną ochronę.
Koperta z żywicy
Pasek z żywicy
Naturalna żywica jest idealnym materiałem na paski, ponieważ jest bardzo wytrzymała i jednocześnie elastyczna.
Ochrona przed wodą: 200 metrów (20 barów)
Zegarek można nosić podczas pływania/nurkowania z rurką (przy powierzchni). Wartość odnosi się do ciśnienia w wodzie na tej głębokości, podczas bycia nieruchomo i nie powinna być postrzegana jako głębokość do noszenia zegarka.
Kondensacja - ważne!
Szybka zmiana temperatury może spowodować kondensację pary wodnej wewnątrz zegarka. Jeśli pod szklem zauważysz wilgoć, powinieneś natychmiast udać się do zegarmistrza, który może otworzyć i wysuszyć zegarek. Nawet jeśli oznaki wilgoci znikną, to wilgoć wciąż pozostanie - i ostatecznie uszkodzi zegarek - więc odwiedź specjalistę i usuń ją na stałe. Nawet zegarki wodoodporne nie są chronione przed kondensacją. Warto mieć to na uwadze jeśli planujesz przejść z bardzo ciepłych miejsc do bardzo zimnych - na przykład bezpośrednio z gorącej sauny na śnieg. Jeśli nastąpi kondensacja, co zdarza się bardzo rzadko (lub w ogóle) w zależności od produkcji, i zegarek zostanie uszkodzony przez wilgoć, gwarancja prawdopodobnie tego nie pokryje (może to być też spowodowane problemami w produkcji, ale najprawdopodobniej przyczyną będą szybkie zmiany temperatury = przyczyny naturalne)
Waga
Ca. 53,00 gram.
Dostawa
Dostawa Poczta Polska - 6-12 dni roboczych
Darmowa przy zamówieniach powyżej 1000 zł, poniżej tej kwoty koszt wynosi 35 zł.
Dostawa priorytetowa UPS - 1-5 dni roboczych
29 zł przy zamówieniach powyżej 1000 zł, przy zamówieniach poniżej tej kwoty 49 zł.
Więcej informacji
Więcej informacji

| | |
| --- | --- |
| Średnica | 43 mm |
| Grubość koperty | 13 mm |
| SKU | DW-5600E-1VER |
| EAN | 4971850856436 |
| Marki | Casio |
| Płeć | Zegarki damskie, Zegarki męskie |
| Rodzaj paska | Żywica |
| Kolor paska/bransolety | Czarny |
| Zapięcie | Na sprzączkę |
| Materiał koperty | Żywica |
| Kolor obudowy | Czarny |
| Kolor tarczy | LCD/LED |
| Szkiełko | Mineralne |
| Odporność na wodę | 20 atm (nurkowania z rurką) |
| Mechanizm | Cyfrowy |
Przewodnik po rozmiarach
Jak mieszymy rozmiar zegarków?
Średnica
Średnica to popularny termin, ale nie wszystkie koperty mają kolisty kształt, więc średnica to tak naprawdę szerokość mierzona od lewej do prawej. Należy pamiętać, że niektórzy producenci do średnicy wliczają także koronę (do ustawiania zegarka) i przyciski. My natomiast staramy się wystandaryzować pomiar poprzez nie wliczanie korony do rozmiaru koperty.

Grubość koperty
Grubość - lub wysokość profilu zegarka - to pomiar koperty od góry do dołu jak na zdjęciu poniżej. Dla porównania, moneta 1 Euro ma grubość 2.33 mm.
Zegarki można podzielić na:
Smukłe: 4-6 mm
Normalne: 6-12 mm
Grube: 12-14 mm
Oversize: 14-18 mm