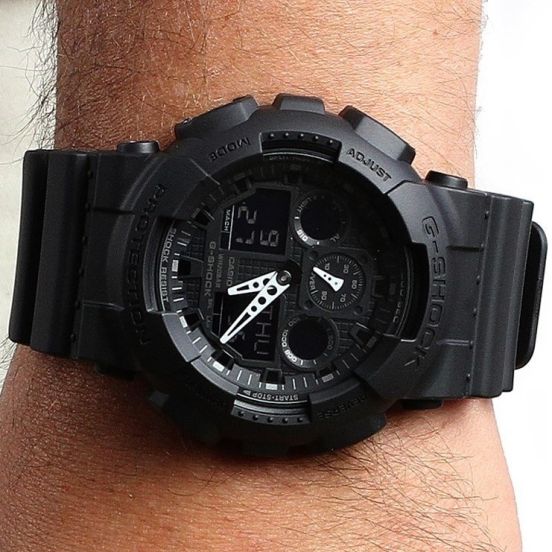 Casio G-Shock Black - GA-100-1A1ER
Oszczędź 33%
Cena promocyjna
366,00 zł
Normalna cena
548,00 zł
Casio
W magazynie
Natychmiastowa wysyłka w dni powszednie, jeśli zamówisz przed 15.00
Zegarek został zaprojektowany i wyprodukowany przez japońską markę Casio i pochodzi z serii niezwykle dobrze wykonanych zegarków sportowych z kolekcji
Casio G-Shock
. Jesteśmy autoryzowanym sprzedawcą
zegarków Casio
. To 100% gwarancja autentyczności produktu oraz zapewnienie oficjalnej gwarancji marki.
Szczegóły
Oficjalny dystrybutor
Jesteśmy oficjalnym dystrybutorem tej marki. Nasi klienci mogą być pewni, że zakupiony zegarek jest oryginalny i posiada międzynarodową oficjalną gwarancję marki.
Automatyczne światło LED
Do podświetlenia przednej części zegarka używana jest dioda LED. Zegarek posiada automatyczny włącznik światła, który oświetla wyświetlacz, gdy tarcza skierowana jest w stronę twarzy.
Odporność na pola magnetyczne
Ta koperta chroni przed polami magnetycznymi.
Zegar światowy
W zegarku największe miasta na świecie są wstępnie zaprogramowane, więc możesz wybrać bieżace miasto (lub najbliższe miasto w tej samej strefie czasowej), a zegarek automatycznie wyświetli prawidłowy czas.
Minutnik - 1/1 min - 24 godziny (z automatycznym powtórzeniem)
Przydatne informacje ogólne: minutnik może przypominać o specjalnych i/lub powtarzających się wydarzeniach. Może też automatycznie odliczać od określonego czasu. Minutnik można ustawić w sekundowych interwałach, do 24 godzin na przód - dlatego jest przydatny do przypominania o treningu/wzięciu lekarstw.
5 alarmów dziennie
Alarmy wykorzystują sygnał dźwiękowy, aby przypomnieć Ci opowtarzających się wydarzeniach. Możesz także aktywować dźwięk, który będzie informował o każdej upływającej godzinie. Ten model posiada pięć niezależnych alarmów, które zapewniają elastyczne przypomnienia.
Funkcja drzemki
Możesz odłożyć alarm, a po kilku minutach włączy się on ponownie.
Automatyczny kalendarz
Automatyczna korekta miesięcy/lat o różnych długościach.
12/24-godzinny czas
Czas można określić w formacie 12 godzinnym (AM/PM) lub 24 godzinnym.
Kryształ mineralny
Ten bardzo trwały kryształ mineralny ma ulepszoną ochronę.
Koperta z żywicy
Pasek z żywicy
Naturalna żywica jest idealnym materiałem na paski, ponieważ jest bardzo wytrzymała i jednocześnie elastyczna.
Ochrona przed wodą: 200 metrów (20 barów)
Zegarek można nosić podczas pływania/nurkowania z rurką (przy powierzchni). Wartość odnosi się do ciśnienia w wodzie na tej głębokości, podczas bycia nieruchomo i nie powinna być postrzegana jako głębokość do noszenia zegarka.
Kondensacja - ważne!
Szybka zmiana temperatury może spowodować kondensację pary wodnej wewnątrz zegarka. Jeśli pod szklem zauważysz wilgoć, powinieneś natychmiast udać się do zegarmistrza, który może otworzyć i wysuszyć zegarek. Nawet jeśli oznaki wilgoci znikną, to wilgoć wciąż pozostanie - i ostatecznie uszkodzi zegarek - więc odwiedź specjalistę i usuń ją na stałe. Nawet zegarki wodoodporne nie są chronione przed kondensacją. Warto mieć to na uwadze jeśli planujesz przejść z bardzo ciepłych miejsc do bardzo zimnych - na przykład bezpośrednio z gorącej sauny na śnieg. Jeśli nastąpi kondensacja, co zdarza się bardzo rzadko (lub w ogóle) w zależności od produkcji, i zegarek zostanie uszkodzony przez wilgoć, gwarancja prawdopodobnie tego nie pokryje (może to być też spowodowane problemami w produkcji, ale najprawdopodobniej przyczyną będą szybkie zmiany temperatury = przyczyny naturalne)
Waga
Ca. 70,00 gram.
Dostawa
Dostawa Poczta Polska - 6-12 dni roboczych
Darmowa przy zamówieniach powyżej 1000 zł, poniżej tej kwoty koszt wynosi 35 zł.
Dostawa priorytetowa UPS - 1-5 dni roboczych
29 zł przy zamówieniach powyżej 1000 zł, przy zamówieniach poniżej tej kwoty 49 zł.
Więcej informacji
Więcej informacji

| | |
| --- | --- |
| Kolor obudowy | Czarny |
| Rodzaj paska | Żywica |
| Kolor paska/bransolety | Czarny |
| Szerokość paska | 22 |
| Długość paska/bransolety | 14-23 |
| Kolor tarczy | LCD/LED |
| Szkiełko | Mineralne |
| Mechanizm | Cyfrowy |
| Wyświetlanie daty | Nie |
| Odporność na wodę | 20 atm (nurkowania z rurką) |
| Grubość koperty | 16 |
| Średnica | 52 |
| Materiał koperty | Żywica |
| Zapięcie | Na sprzączkę |
| Płeć | Zegarki męskie |
| Rozmiar | One-SIze |
Przewodnik po rozmiarach
Jak mieszymy rozmiar zegarków?
Średnica
Średnica to popularny termin, ale nie wszystkie koperty mają kolisty kształt, więc średnica to tak naprawdę szerokość mierzona od lewej do prawej. Należy pamiętać, że niektórzy producenci do średnicy wliczają także koronę (do ustawiania zegarka) i przyciski. My natomiast staramy się wystandaryzować pomiar poprzez nie wliczanie korony do rozmiaru koperty.

Grubość koperty
Grubość - lub wysokość profilu zegarka - to pomiar koperty od góry do dołu jak na zdjęciu poniżej. Dla porównania, moneta 1 Euro ma grubość 2.33 mm.
Zegarki można podzielić na:
Smukłe: 4-6 mm
Normalne: 6-12 mm
Grube: 12-14 mm
Oversize: 14-18 mm