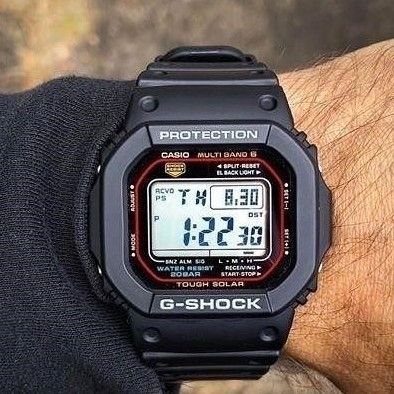 Casio G-Shock GW-M5610-1ER
Oszczędź 36%
Cena promocyjna
467,00 zł
Normalna cena
731,00 zł
Casio
W magazynie
Natychmiastowa wysyłka w dni powszednie, jeśli zamówisz przed 15.00
Zegarek został zaprojektowany i wyprodukowany przez japońską markę Casio i pochodzi z serii niezwykle dobrze wykonanych zegarków sportowych z kolekcji
Casio G-Shock
. Jesteśmy autoryzowanym sprzedawcą
zegarków Casio
. To 100% gwarancja autentyczności produktu oraz zapewnienie oficjalnej gwarancji marki.
Szczegóły
Oficjalny dystrybutor
Jesteśmy oficjalnym dystrybutorem tej marki. Nasi klienci mogą być pewni, że zakupiony zegarek jest oryginalny i posiada międzynarodową oficjalną gwarancję marki.
Automatyczne oświetlenie LED
Funkcja podświetlania zegarka na piękny, wyrazisty kolor, gdy poziom światła wokół Ciebie jest niski. Aktywowany przez obrócenie nadgarstka.
Odporność na wstrząsy
Tak zwana konstrukcja odporna na wstrząsy chroni zegarek przed wstrząsami i wibracjami.
Energia słoneczna
Źródłem energii tego zegarka jest bateria słoneczna.
Odbiornik sygnału radiowego
Nie ważne czy jesteś w Europie, Ameryce Północnej, Ameryce Środkowej, Chinach czy Japonii, ten zegarek odbiera odpowiedni sygnał radiowy, by zawsze pokazywać Ci właściwy czas.
Zegar światowy
Dzięki tej funkcji łatwo jest wybrać odpowiednią strefę czasową, a po jej wprowadzeniu - zegarek poda Ci prawidłowy czas.
Funkcja stopera - 1/100 sek. - 24 godziny.
Czas wstępny, czas podziału i czas końcowy mierzone są z dokładnością do 1/100 sekundy. Maksymalna długość pomiaru wynosi 24 godziny.
Minutnik – 1/1 min – 24 godziny
Przy użyciu sygnału dźwiękowego ten minutnik może przypominać ci o specjalnych lub rutynowych wydarzeniach. Czas może być ustawiony do 24 godzin na przód i w sekundowych odstępach. Idealny przy codzinnym stosowaniu lekarstw czy ćwiczeniach.
5 alarmów dziennie
Alarmy wykorzystują sygnał dźwiękowy, który może przypomnieć Ci w ustawionym czasie o powtarzających się wydarzeniach. Możesz także ustawić sygnał, który wskazuje każdą pełną godzinę. Ten model posiada pięć niezależnych alarmów dla umożliwienia elastycznych przypomnień o ważnych spotkaniach/wydarzeniach.
Funkcja drzemki
Możesz odłożyć alarm, a po kilku minutach włączy się on ponownie.
Włącz / wyłącz dźwięk klawiszy
Dźwięk przycisków można dezaktywować. Nie wpływa to na żadne inne funkcje zegarka takie jak alarmy, minutniki czy przypomnienia.
Automatyczny kalendarz
Automatyczna korekta miesięcy/lat o różnych długościach.
12/24-godzinny czas
Czas można określić w formacie 12 godzinnym (AM/PM) lub 24 godzinnym.
Wskaźnik poziomu naładowania baterii
Wskaźnik pokazuje aktualny poziom naładowania baterii.
Opis produktu został opracowany specjalnie dla firmy ZegarkowyGigant.pl i nie może być kopiowany ani modyfikowany! Naruszenie tego zakazu będzie skutkować roszczeniami finansowymi.
Dostawa
Dostawa Poczta Polska - 6-12 dni roboczych
Darmowa przy zamówieniach powyżej 1000 zł, poniżej tej kwoty koszt wynosi 35 zł.
Dostawa priorytetowa UPS - 1-5 dni roboczych
29 zł przy zamówieniach powyżej 1000 zł, przy zamówieniach poniżej tej kwoty 49 zł.
Więcej informacji
Więcej informacji

| | |
| --- | --- |
| Kolor obudowy | Czarny |
| Rodzaj paska | Żywica |
| Kolor paska/bransolety | Czarny |
| Długość paska/bransolety | 14-22 |
| Kolor tarczy | Czarny, LCD/LED |
| Szkiełko | Mineralne |
| Mechanizm | Cyfrowy |
| Wyświetlanie daty | Tak |
| Odporność na wodę | 20 atm (nurkowania z rurką) |
| Grubość koperty | 13 |
| Średnica | 44 |
| Materiał koperty | Żywica |
| Zapięcie | Na sprzączkę |
| Płeć | Zegarki męskie |
| Rozmiar | One-SIze |
Przewodnik po rozmiarach
Jak mieszymy rozmiar zegarków?
Średnica
Średnica to popularny termin, ale nie wszystkie koperty mają kolisty kształt, więc średnica to tak naprawdę szerokość mierzona od lewej do prawej. Należy pamiętać, że niektórzy producenci do średnicy wliczają także koronę (do ustawiania zegarka) i przyciski. My natomiast staramy się wystandaryzować pomiar poprzez nie wliczanie korony do rozmiaru koperty.

Grubość koperty
Grubość - lub wysokość profilu zegarka - to pomiar koperty od góry do dołu jak na zdjęciu poniżej. Dla porównania, moneta 1 Euro ma grubość 2.33 mm.
Zegarki można podzielić na:
Smukłe: 4-6 mm
Normalne: 6-12 mm
Grube: 12-14 mm
Oversize: 14-18 mm